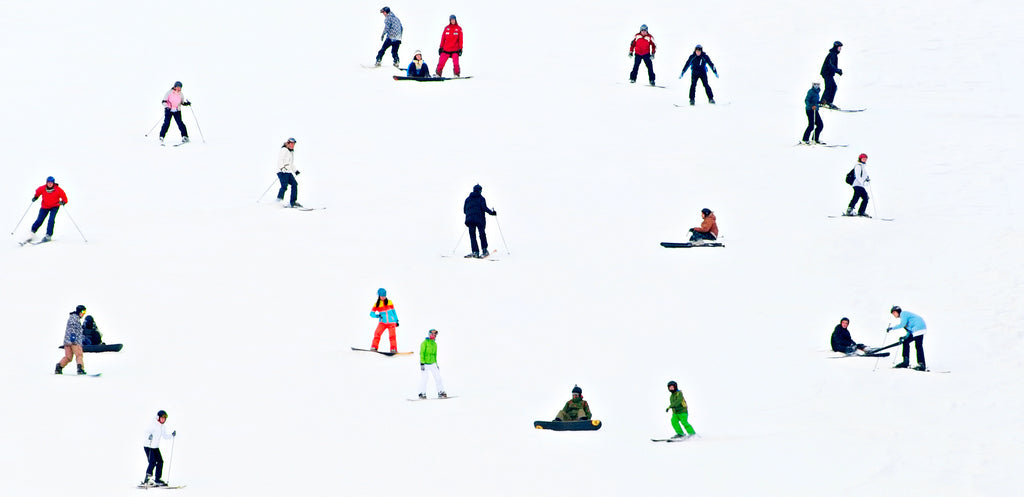 By: Steven Segall, co-founder of Orsden
Who doesn't love the holiday season? Family, food, friends, no school or work! For us though, the best thing about the holidays is that they mark the first opportunity to go on a serious ski trip. Here are our best tips for holiday skiing.

Choose the right mountain
Since it's the holidays, and lodging and air travel are at a premium, you are going to have to make a bit of a gamble on where there will be snow. Christmas and New Years probably aren't the time for that Mad River Glen trip or a trek to Taos (as much as we love them both). Instead, think resorts with excellent snowmaking or great natural snow reputations. As one final trick, try to secure monthly snowfall and base depths for the mountain you are choosing from a site like OnTheSnow.

Pick your days wisely
It's tempting to spend Christmas around the tree with your family or ski the week between Christmas and New Year's then skip out early on New Year's Day for some college football. Well, if you like empty slopes don't do this. Get to the mountains before Christmas when the prices will be lower and the crowds much thinner. Rather than spending time with your presents on Christmas morning give yourself the gift of snow! Drink just enough water the night before to get out by 10 am on New Year's Day.

Looks for deals
You know where you want to go, or maybe you don't, but remember there are many ways to plan a ski vacation. The official mountain booking service often has great deals, but don't snooze on VRBO and Airbnb. Additionally, mountain-focused travel agencies can also sometimes get you some great packages. Often booking tickets and rental gear in advance means you will get a better price too! Finally, don't be shy about asking for special deals, especially if you are planning late.

Don't forget about meals
Now that you are resolved to be at the mountain for the holidays, you have to plan the festivities. If you have access to a kitchen, Christmas Eve and Christmas Day are great times to cook (better yet invite some friends over) as restaurants might be closed or operating with skeleton staffs. On New Year's Eve too, you want to search out the best party opportunities and ideally bring lots of friends. Also, do your research on the best restaurants ahead of time. Most skiers don't think about where they want to eat until they show up at the hotel and open the dining guide. At that point, you might be missing out on the great food and instead of hitting another blah ski area restaurant with the same menu you've seen before.

Travel smart
Holiday skiing means getting to the ski mountain with your family, friends, and all the gear that comes along with that in tow. Some tricks to remember.
Fly direct. If you are flying, pay the premium for direct flights. Connecting flights especially if in wintry areas mean you could get caught in a winter storm.
If your boot bag (or the bag you say your ski boots are in) and ski bag together are less than the weight limit then they count as one item. 
Book with the right airline credit card to get free bags. 
Consider putting 2 sets of skis in one bag and, of course, wrapping your skis with some outerwear/midlayers for added protection and storage
Bring your boots on the plane if you can so that if your luggage doesn't make the connection at least you can still rip on day 1. 
Ok now, that we've covered planning, on to tips for making the most of the mountain.
Get up early
As much as you want to relax on your vacation, know that holiday skiing is all about avoiding the crowds. No better way to do this than hit the mountain as early as it opens so that you can beat the crowds, get the best snow quality, and get the best parking spot.
Dress right
Know the forecast for the day and the local conditions. Try to wear technical waterproof breathable outerwear, like say the
Orsden Ski Jackets
, underarm vents and good pockets are a must. Layer up with a wicking base and mid-layers--no cotton! In very variable conditions, I might stash an extra layer or even ski with a pack so that I can easily add or remove layers.
Plan your assault
It's not just about beating the crowds, it's about knowing how to stay one step ahead of them. If you run into a ski patroller or local, don't bother asking for the secret powder stashes (they probably won't tell you) instead ask where the crowds will be and how to avoid them. Believe me, my plan on a holiday is something that would make
Carl von Clausewitz
proud. Remember to eat lunch early or late to avoid the crowds again.
Send it safely
Holiday skiing means there will be crowds and sometimes early season variable conditions. Not to mention occasional slower reaction speed from the night before. You might not have even skied yet this year! Of course, at Orsden, we fully recommend speed, thrills, chutes, cliffs and powder, but ski within your abilities.