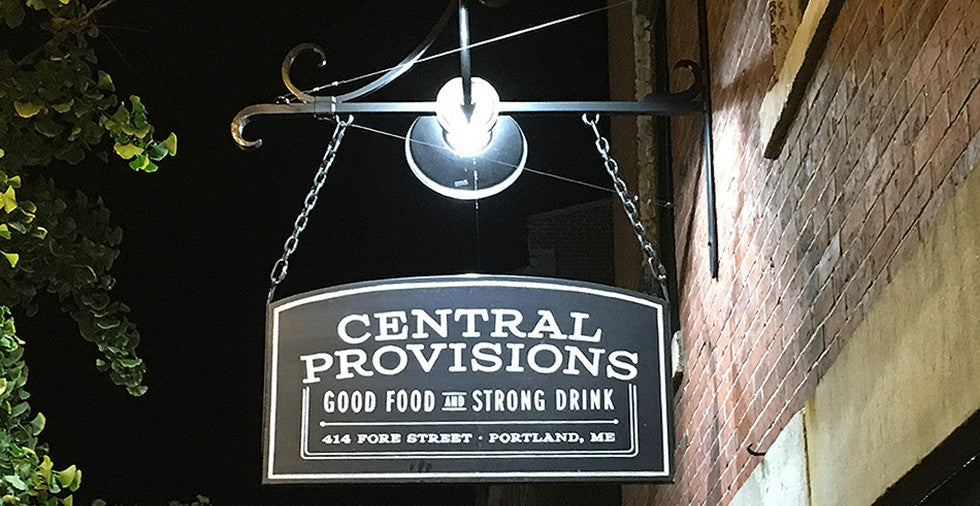 Last time on the Ski Layover we discussed a short overnight in Santiago, Chile. This time we discuss a different sort of layover, the On the Road Dinner. What is the On the Road Dinner you might ask? It's when you load into the car on a Friday after work and start the drive up to the mountains so that you can be skiing by Saturday morning. Of course, if you are heading out for a 4-5 hour drive at 4PM, you are going to have to get food at some point. If there is a great restaurant on the way, why not brighten up your drive?
Since we're going to be in Boston for the Boston.com Ski & Snowboard Expo on November 10th -13th, we thought we'd focus on an amazing On the Road Dinner option for the Boston-based skier traveling to the Maine ski resorts. If you are heading up to Sugarloaf or Sunday River, you will be heading right through Portland, Maine two hours into your drive.
Lucky for you, Portland is one of the most interesting small city culinary destinations in the country. Fore Street was at the vanguard of Portland's culinary movement in terms of national praise, but there are so many more options now like Eventide Oyster Co. and Duckfat. For this article, however, I'll focus on my current favorite, Central Provisions.
Central Provisions is a lovely small-plates restaurant on the main drag in Portland. The restaurant features a dining area with open counter upstairs and bar downstairs (with full menu). Unfortunately, Central Provisions doesn't take reservations, but they will take your number and text you when a table becomes available. Also, even when there is a wait upstairs, there is frequently availability in the bar downstairs, and we've been lucky with the wait time ultimately being less than originally quoted.
The décor is very New England as the restaurant is located in a 19th Century Federal-style brick storehouse. Staying local in the interior, they retained Maine craftsmen to build the various pieces of furniture. We'd love to see these same craftsmen build the furniture for our next ski home!
Image courtesy of Central Provisions
On to the food. It's hard to place Central Provisions in exactly one cuisine. There are Spanish and Japanese influences, but also a strong Maine Locavore influence with most of the ingredients sourced in the surrounding area.
THE HIGHLIGHTS (from this visit and prior visits)

Cheese Plate
When in New England, it's always good to check out some of the local cheeses. We started with the cheese plate to hold us over while we were in the downstairs bar waiting for our table. An alternative choice is the bread and butter. The butter at this restaurant is no normal butter. I don't know the exact details, but an egg, butter, and nitrous combo makes for a decadent spread.
Spicy Beef Salad
Although I didn't get it on this trip, the Spicy Beef Salad with raw beef, Sriracha and a hint of peanut is the most interesting and progressive beef tartare I've had.
Tuna Crudo
Once seated, we started with the Tuna Crudo, which was spectacular. It had just the right level of salt and took advantage of wonderful local seafood.
Deep Fried Lobster Corn Fritter
Staying with the Maine theme, we had a deep fried lobster and corn fritter (maybe not the most beautiful looking dish in culinary history). It's also delicious.
Fried Cauliflower with Chickpeas
Next up was Fried Cauliflower with Chickpeas. The dish had deep earthy flavors proving that vegetables can be the star of the show even for a carnivore like me. My only criticism was the dish was a tad over-garnished.
Ribeye Steak with Romesco Sauce
Last up for us on this visit was the Ribeye Steak with Romesco Sauce. The meat was perfectly cooked and the Romesco sauce was great complement and showed the Spanish influence that permeates throughout this restaurant.
Overall, I can't get enough of this restaurant and it's why I go at least once every time I head through Portland. A stop at Central Provisions is an amazing way to start your ski weekend!
Feel free to contact me at steve@orsden.com if you have questions.