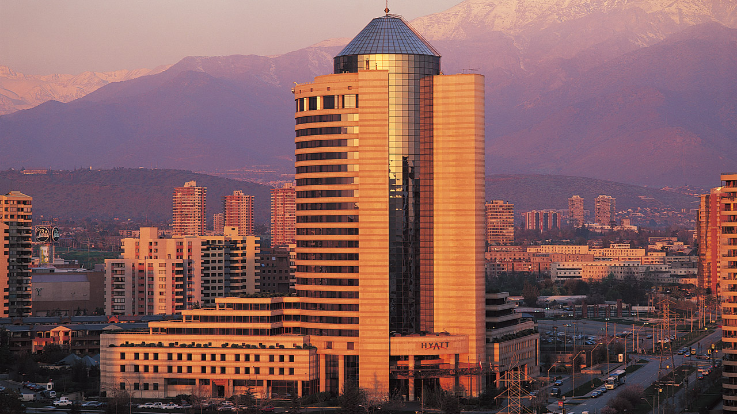 Exterior image courtesy of Grand Hyatt Santiago
Welcome to The Ski Layover. As any dedicated skier knows, you'll often have to burn a day in a city when en route to a ski vacation. Since we've been traveling the globe to test our jackets, I wanted to share tips and tricks for some of our favorite cities. This summer on the way to our Orsden photo shoot in Valle Nevado, we had to spend a day in Santiago. In fact, I've had three other layovers in Santiago, so I can give you some good advice.
One of the joys of skiing in Chile during the summer is that there is no difference in time vs. EST. The overnight flight allows you to get decent rest and sometimes that means you can ski the day you arrive! If you haven't been before though, I recommend checking out Santiago and then arriving well rested to the slopes of Valle Nevado, Portillo, or Ski Arpa to name just a few of you options in the Andes.
STAY
Sara and I stayed at the Grand Hyatt Santiago, just a short 20 minutes from the airport in the upscale Las Condes neighborhood. The hotel follows a classic Grand Hyatt design (open atrium). 
 Luckily our spacious room on the club floor was ready when we arrived. While a little outdated (note: the hotel is in the process of renovating the rooms), it had a great view of the snowcapped Andes. We were able to snag an extra few hours of sleep before exploring the city.
SEE
Unfortunately, the Grand Hyatt is a little far from some of the tourist sites in Santiago like Cerro San Cristobal or Cerro Santa Lucia. I don't find either of these sites amazing, but they have nice views of the city if you are on a ski layover. Parque Bicentenario is also a nice park in the downtown area.
As a side note, Santiago in winter is really more like fall in the US. During the day you can get by in jeans and long-sleeves although the temperature will drop into the 40s at night. Chileans will rather comically be dressed like they are in Lake Louise in January.
To be honest, although there are some decent sites in Santiago, the real lure of the city is easy access to the surrounding areas. Some of the best day trips are to the seaside cities of Valparaiso with its amazing system of funicular railways and Viña del Mar (also known as La Ciudad de la Jardin or the Garden City). ~8 hour tours to both these cities are available from Santiago for about $150 USD per person. Although you might want to add a day to the Santiago portion of your trip if you want to check these beautiful cities out.
Concha y Toro, Cousino Macul and Undurragua. Concha y Toro has the most impressive grounds (it is one of the largest wineries in the world), but some of the wines are very mass market (although the Don Melchor is fantastic). Overall, I find the tour interesting even if some parts are a bit Disney-esque (I'd tell you when and where, but I don't want to ruin the surprise).
A few notes on the winery tours, I recommend paying up for the nicer options if you are given a choice. Chilean wines can be good, but they also make many mass market wines which won't really taste that good. Although it's tempting to buy wines at the winery, I often don't think the prices are that good and it's easy enough to buy any wine you want when you get back to the States. One big exception to that though is picking up a few bottles to drink when you are in the mountains. Generally, South American resorts have MUCH smaller base areas than North American or European resorts. Don't expect there to be a grocery store or wine shop in town to pick up beer, wine and munchies at a reasonable price. You'll want to pick up supplies when you are still in Santiago.

EAT
Last but not least, and one of the best things to do in Santiago is eat. Chile is blessed with an abundance of food resources. Chile has massive coastline for wonderful seafood (remember you are going to visit Valparaiso and Viña del Mar, right?). The overall temperate climate in most regions allows for fresh fruit and vegetables to be grown year round.
With this abundance of food resources and a large cosmopolitan population, Santiago has a range of world-class restaurants, with 3 restaurants making San Pellegrino's list of Top 50 Latin American Restaurants. Borago is tops according to the foodie experts checking in at number 2 in LatAm and number 36 in the world. They focus on a complex tasting menu featuring local ingredients. At ~$160 USD for a 15+ course menu it's a steal for that level of food, but it might be hard after an overnight flight.
If you are looking for something a bit more casual, let me suggest Ambrosia (a respectable #32 in LatAm). They have a great seasonal menu with skilled presentation. I personally had several great dishes: Octopus, Hake and Duck Ravioli. Unlike many American restaurants in the farm to table category that try to keep dessert simple, Ambrosia has a full dessert menu with interesting dishes like the White Chocolate Ganache that I had. Overall, the 3-course dinner with a couple drinks checked in a little bit over $100, so very reasonable to save money for skiing (or that new Orsden jacket)

Octopus, squid ink, sweet pea and olive oil starter at Ambrosia (left). Delicious Hake, Cauliflower, Cucumber, Beets and other stuff at Ambrosia (right).
Osaka in the trendy W hotel serving Peruvian and Japanese fusion is also highly recommended by those in the know, but, as with all things W, isn't as reasonable as Ambrosia
So there you have it folks. Plenty to do on your layover in Santiago. Feel free to contact me at steve@orsden.com if you have questions.