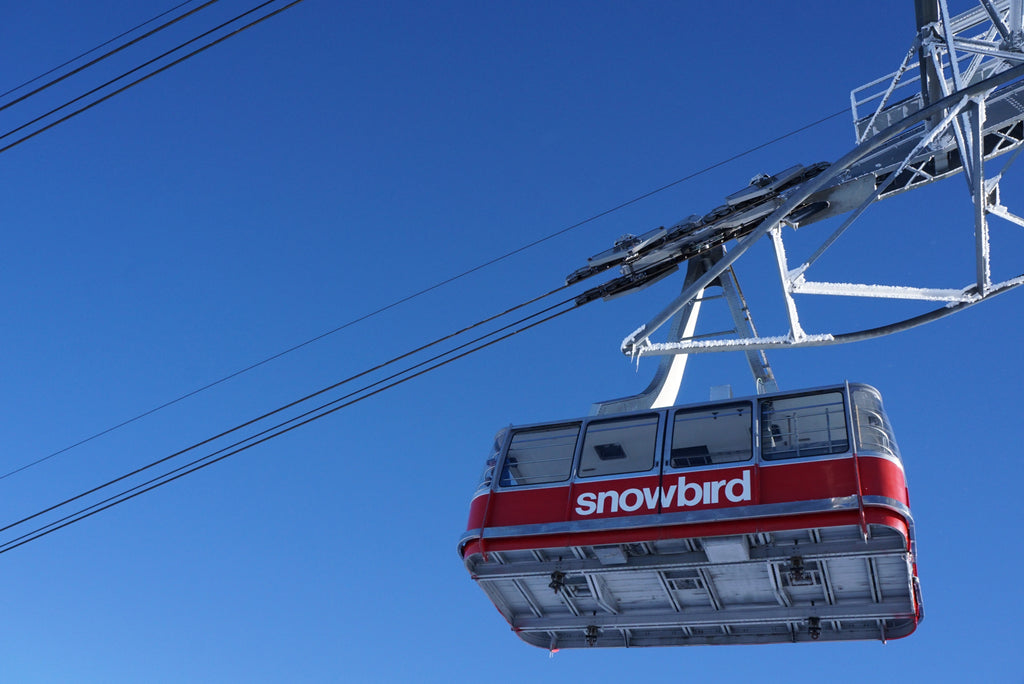 By skier and storyteller Lexi Dowdall, who was also the athlete in and producer of our Slope Pant Kickstarter video. Check her out on Instagram @kapowder

Having grown up skiing at Snowbird Ski Resort, nestled above Salt Lake City, Utah was both a blessing and a curse. A blessing because I learned that I could not live without easy access to mountains and incredible snow, a curse because when I skied outside of Utah for the first time at age 19, I realized I had no idea how to ski ice or unfavorable conditions! Four years away at college in the Pacific Northwest was enough time to foster a deep appreciation for the unique weather and mountains of the Beehive State. I've skied all over North America for work and pleasure and year after year, I continue to purchase a Snowbird season pass. There's some sort of magic in these mountains that captivates snow lovers and beckons them to return. Having spent all my life as a Snowbird season passholder, I want to share a bit of the bird with you!  Here are some tips and tricks to make the most of your visit to The Bird.


SKI



Dropping in

Thanks to Salt Lake's close proximity to Snowbird Resort (32 miles) you can fly to Utah and easily find yourself skiing within an hour or so. If your legs are up for it, head straight for the tram line to be whisked upwards 3,000 feet to the top of Hidden peak. Snag a window spot to soak in jaw-dropping views of the granite peaks that form the heart of the Wasatch range. Take a moment to appreciate the fact that you are about to enjoy some of the best skiing and steepest slopes Utah has to offer. Whatever you do, don't comment on the fact that you're being squished, you'll immediately identify yourself as a tourist. Take this opportunity to make a friend or meet a local to ask after recent snowstorms and current conditions.

If the skies are clear, orient yourself atop Hidden Peak and prepare to drop into the majestic back bowls of Mineral Basin. If the clouds are hovering in any way, skip the basin because the flat light back there can be wicked in low visibility. If you've had any luck and timed your visit with one of Utah's many powder storms, keep your eye on the Road to Provo rope drop. If you see a line forming near the top of the Little Cloud chairlift, chances are high that this huge bowl of untracked powder could deliver the best run of skiing you've ever had.



Road to Provo

If black diamonds and powder aren't your scene, get yourself over to the meandering blue square runs off Baby Thunder. This area of the mountain seldom sees much traffic and it's one of the few zones at snowbird with a more forgiving slope. If you are new to skiing or snowboarding, you might be better served by visiting resorts in the Park City area. One of the chief complaints about Snowbird is that the terrain is too difficult. (Snowbird actually used this to their advantage recently in a genius marketing campaign with a repurposed 1-star review.)

My favorite runs lie off the famed Cirque Traverse. You can test your mettle on the seemingly endless traverse, scoping lines as you go. Dropping in early to skier's left will take you through the Gad Chutes area, be careful not to get yourself cliffed out here. Dropping anywhere to your right will put you in the Cirque proper. The slope is consistent, steep, and often loaded with powder snow. If it happens to be storming, I'll wait a little longer to drop in amongst the trees of South Chute or Mach Schnell.

On a weekend powder day when the crowds are large, I recommend heading to the Gad II chairlift. There you can find S.T.H. (Steeper Than Hell) and loads of tight trees to hunt for powder stashes. Eat a hearty breakfast, pack snacks, and take a late lunch to maximize the shorter lift lines during lunch hour.

A few words of advice: drink TONS of water at this elevation to avoid feeling sick or fatigued. Don't forget to pack your sunscreen and lip balm, because you can easily fry your skin at these altitudes. Lastly, if you should meet a ski patroller while exploring the mountain, be sure to offer hearty thanks. These gals and guys work extremely hard to keep the terrain safe while controlling and mitigating the risk of Utah's prevalent avalanches.

EAT

The dining options found at Snowbird are as casual as the blue runs of Baby Thunder or as slick as the steeps of Great Scott. The new Summit Restaurant is certainly Snowbird's most picturesque place to take a meal. Enjoy 360-degree views of Mount Timpanogos, the iconic Pipeline couloir, the Pfeifferhorn, Little Cottonwood, and the Salt Lake Valley. Even if you don't plan to ski or snowboard this steeper section of the mountain, the tram ride up to Hidden Peak is well worth the view. Don't expect hot dogs and pre-frozen fries at this cafeteria! Instead you'll find healthy organic meals, microbrews, and delicious barbeque.
If you need a break from the dizzying altitude of 11,000 feet atop Hidden Peak, but still require incomparable mountain views, make your way to the 10th floor of the Cliff Lodge. There you can soak up the cozy atmosphere of The Aerie restaurant. This swanky hideout harbors a fine dining experience with unparalleled views of the mountain you spent the day sliding down. See if you can spot your runs down Chips Face or Phone 3 Shot while downing delicious grilled salmon or elk meatloaf. I admit to cozying up to the fireplace to enjoy a sip of whiskey from High West, our best local distillery or settling in with a Krak It!, a drink with Kraken Rum, elderflower liqueur, and citrus juice.

Before a big powder day, I always get myself to the Snowbird Center well before 8:00 AM to find my place in line for the first tram car. It may well be the best day of your life so make every effort to be an early bird! Because I am most certainly not a morning person, I will pick up the legendary breakfast burrito at General Gritts to nosh while I wait in line until the first car departs around 9:00. Note that this small convenience store also harbors the ever elusive and difficult-to-find-in-Utah liquor store, so keep this in mind if your supplies run low! The Regulator Johnson is my favorite midday sandwich from Gritts and I'll often take it upstairs to Level 2 to warm my gloves on the heater and greet friends and strangers alike. A quick slice of pizza can be found nearby at the Tram Car pizza joint.

After a day of experiencing Utah's proclaimed 'Greatest Snow on Earth,' you'll most likely want to head downstairs to the Tram Club to find refreshment. There, you celebrate the day with the infamous shot and a beer for $5.00. I suggest buying a round for a local or two to see if you can learn about a secret stash or find yourself a guide for the morrow. Just a word of caution here, from personal experience, those $5 drink specials can really sneak up on you! Don't forget you're at elevation and drink slowly because you'll need a clear head and strong legs for another memorable day on the mountain tomorrow.  
STAY



The Cliff Lodge, photo: Adam Barker

Snowbird has a handful of slopeside options to maximize your playtime on the mountain. The imposing concrete towers of the various lodges provide ample protection from the avalanches that occasionally plague Highway 210. The newly remodeled Cliff Lodge is my personal favorite. Request a room on a higher level to absorb the views of the inspiring granite peaks of Little Cottonwood. The Cliff offers luxurious and comfortable rooms, a delicious brunch, and my favorite: the Cliff Spa. The Cliff offers a pool and 3 hottubs on the 3rd floor, but I love to pay a small fee to access the kid-free Cliff Spa on the 10th floor. This world-class spa offers all sorts of services as well as access to the swanky rooftop pool! There's nothing quite like sinking into the scalding water and catching a swirling snowflake in your mouth following a ton of tram laps. After 40 years, the Cliff Spa's pool deck was completely redone this summer with radiant heating, fire pits, and lush textures; I can't wait to take advantage of the newly remodeled rooftop space this winter!



Pool at the Cliff Spa

Another great option is The Inn which offers intimate lodging for groups of 2 to 10 with kitchens and fireplaces to warm up in the evening. With ski lockers, an outdoor heated swimming pool and tub, steam room, and a fitness center, the Inn offers great comfort for a longer stay. I myself will often take my computer and work for a few hours in the cozy lobby because it's such a pleasant atmosphere.

Keep an eye out for ticketing and lodging specials. Snowbird will often offer discounts on lodging and tickets, especially in the summer months, so it's a great idea to subscribe to their emails to see if you can save any money on your trip to visit Utah's amazing snow. Most people don't think to visit Utah for a ski trip in April, but some of the deepest powder storms roll through the state during this month. Sure, it's a bit of a gamble, but Snowbird will be far less crowded, and if it isn't snowing, you can enjoy warm, spring skiing at its finest.

See you on the steeps!

All photo credits to Lexi Dowdall unless otherwise noted