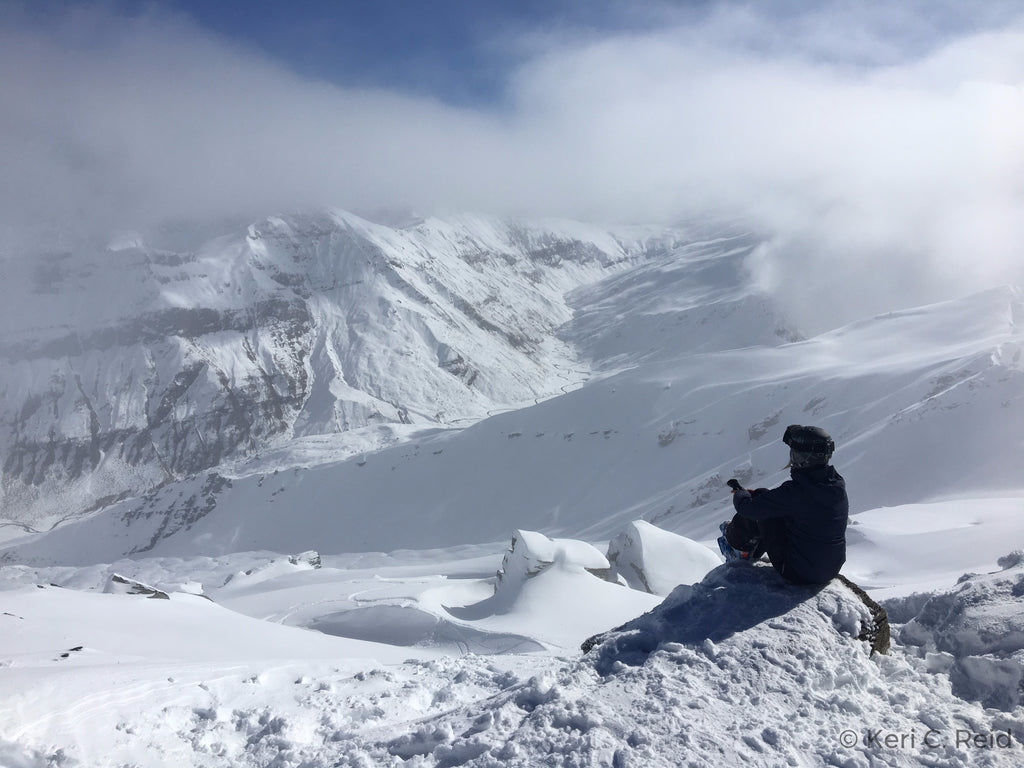 Pictured Above: Treble Cone


By Keri C. Reid, skier for Orsden, Lange & Dynastar

It was eleven AM. I used my gloved hand to wipe the wet snow from my goggles. In true kiwi1 fashion, it had gone from cold and windy to foggy, warm and wet in a matter of minutes. I didn't need to wait much longer for the sun to make an appearance though—the weather turns that quickly here.

I headed to my favorite terrain at Coronet Peak in Queenstown: "Exchange Drop." I tipped my skis into the steep gully and was met with spring-like conditions. It was the kind of snow your skis sink into like butter. The coverage was excellent. In a place where winter conditions tend to be fickle, it was a true sign of a quality season.


It's hard to describe why skiing the South Island of New Zealand is so addictive. The weather is unpredictable, and the snow conditions certainly aren't the best you will encounter. But what New Zealand can guarantee is an authentic experience. There are none of the built-up condos and hotels, just base buildings and lifts that take you straight-up to the sharp, bare peaks.

True alpine conditions mean no glades, instead offering trails that are more or less clearly defined, which for the experienced skier means the entire mountain is there to explore. If it's got snow, it's fair game. Playful is certainly one way to describe the skiing here.

Coronet Peak was just the first stop on a four-mountain tour. Next, we headed to The Remarkables. I caught the bus up the mountain early both to catch the blooming pinkish-reds of the sunrise and get first tracks.

The sharp climb up the access road affords widening views of the Queenstown valley and Lake Wakitipu. And though I've seen it before, I was still struck by the new, modern ski center that juts out from the base of "The Remarks," mimicking the sharp angles of the volcanic rock peaks of the resort.


Skiers of all levels will find something to ski here, from the sprawling beginner terrain to the steep chutes trailing down to lake Alta. On a clear day, take the chair up "Shadow Basin" and a quick hike up to "The Lookout," an iconic photo opportunity that has seen many a marriage proposal.

My first tracks that day were on firm, fresh corduroy that turned to soft corn snow by 10am. I took some steep turns down the aptly named "Wye Not", scraping a few sharp rocks on the way down. Unlike Coronet's tussock grass base, the snow at The Remarks covers sharp volcanic rocks, so it just wouldn't have been a true day at the hill without a few new dings in my bases. I consider it a small price to pay for some of the best skiing in New Zealand.

When you come down off the hill, you can trade in your ski boots for city shoes. Queenstown, the self- proclaimed adventure capital of the world, is an energetic tourist hub. And though there are periodically snow showers that see accumulation in town, they tend to melt away rather quickly. A ski trip on the South Island means you can wear technical fabrics by day and a sleek leather jacket by night.

Queenstown is filled with twenty-somethings from all over the globe. Some come on working holiday visas, staffing the bars and shops. Others are just passing through. The gorgeous setting attracts plenty of non-skiers seeking other adrenaline pumping activities, including skydiving, jet boating and bungee jumping. Eclectic is the only way to describe the ever-changing population of this dynamic place.

No matter who you are, in this town, all must pass through Fergburger. Its blue lights and thrumming music are as ever-present as its queues. Day or night, crowds always wait expectantly for their burgers, numbered tickets in hand. The bustling joint is the quintessential eating experience in Queenstown, offering a variety of burgers with whimsical and ironic names like Sweet Bambi (Fiorland Deer & Brie) and Bun Laden (Falafel & Avocado). The hype is justified, though. Burgers as big as your head are consistently served fresh to order at some of the most reasonable prices in town.

Over the Crown Range from Queenstown is the quieter town of Wanaka. An hour of driving got us over the range and up the access road to our third ski destination. On this particular trip, Cardrona was so foggy I could barely see the tips of my skis. Though I am a far from timid skier, I will admit to having skipped the skiing that day. It was a shame because the affectionately nicknamed "Cardies" has some fantastic steeps and sprawling terrain parks.

Boasting the only superpipe in the Southern Hemisphere, Cardrona attracts many a professional daredevil, including those coming down from the Northern Hemisphere for summer training. Even if you're not an adrenaline junkie yourself, it is riveting to watch others come tearing down the large features. On that soupy day, I traded eyeing daredevils for people watching in the base building, while sipping an expertly prepared Flat White2.

Wanaka is a more laid-back, down to earth town than bustling Queenstown. It overlooks a largely unpopulated lakefront surrounded by towering mountains. Here you will find a food scene that easily rivals the most urban of areas without any of the pretense. Some of the best savory pies around (a must eat in this country) can be found at The Bakery; try a steak and mushroom, you won't regret it. Many of the shops are locally run and owned, and generally speaking, you will find more true blue New Zealanders than tourists in the area. If you want to get a good sense of the place, have a chat with a local. Easy, open conversation seems to be a universal Kiwi trait.
Our last day of skiing was at one of my favorite resorts,  aka TC. The skies were blue and the snow gods had delivered several inches of fresh snow. In New Zealand, a few inches constitutes a powder day. Even though you aren't thigh deep in fresh, the skiing feels just as exciting and fun. The wind creates drifts of snow that make for surprisingly deep pockets, and if you're willing to work for it, short hikes can deliver two-fold with more sweeping views and untouched snow. I did just that and found myself floating through some dry, fluffy snow that would rival that of the Rockies.
Of the four resorts visited, TC clearly offered the best conditions, but its aggressive pitch is better suited to advanced skiers. Be forewarned: novice sliders can only really access one long green trail called "Easy Rider." Thrill seekers though should bee-line it for Saddle Basin, a veritable steeps paradise that sees less crowds.


My trip to the South Island would not have been complete without a detour to Arrowtown. This quiet, quaint village was once a gold miners town. Now it's home to small artisans and is lined by adorable cobbled stoned alleys leading to shops and world-class restaurants. I took one of those alleys and ducked into the Blue Door Bar, by far one of my favorite places in the area. It's a cosy, cellar-like space with a central fireplace and a few small tables circled by leather-clad armchairs. The masculine space offers a no-frills version of the menu offered next door at the far more upscale (somewhat stuffy) Saffron.

With local fare and wine, Blue Door is one of the more authentic South Island dinning experiences. I feasted on in-season white bait3 patties, a preserved lemon risotto and a gorgeous, local blush wine. Not a meal to be soon forgotten.

Overall, working around the ever-changing weather conditions of New Zealand skiing is a small price to pay for a ski trip unlike any other. In case you were wondering, the rumors are true: yes, there are sheep everywhere, and yes, it does look like a set from The Lord of the Rings. Every turn produces views more breathtaking than the last, ones that pictures will never do justice. There is simply something irresistible about the dramatic landscapes, bucolic fields of livestock and friendly people. The South Island offers a stripped-down skiing experience with the most striking of backdrops both environmental and cultural. The takeaway here is simple: go.

Pro Tips:

If you have never been skiing in this area, you may be surprised to learn that all resorts are approached via rather challenging access roads that can be treacherous in the wrong conditions. I would recommend taking one of the resort shuttle buses where possible. They are fairly inexpensive and take the stress out of the journey.


August and early September is the ideal time to head for the hills in New Zealand. Holidaymakers from Australia and New Zealand flock to the mountains throughout July, which can make for an overcrowded experience. Additionally, snow conditions tend to be more reliable as the season progresses.
The wine scene in Central Otago is one that will totally rock any oenophile's world. If you are not a huge wine connoisseur, the stellar selection in the region is likely to make you one. It is worth considering saving a day of your trip to explore some of the local vineyards including Chard Farm, Peregrine and Amisfield.
1. Kiwi/ˈkēwē/nounInformal; A New Zealander2. Flat White/flat (h)wīt/nounAn espresso-based coffee beverage prepared by pouring micro-foamed steamed milk over a single or double-shot of espresso.3. Whitebait/(h)wīt bāt/nounJuvenile forms of five species of fish from the Galaxiidae family.