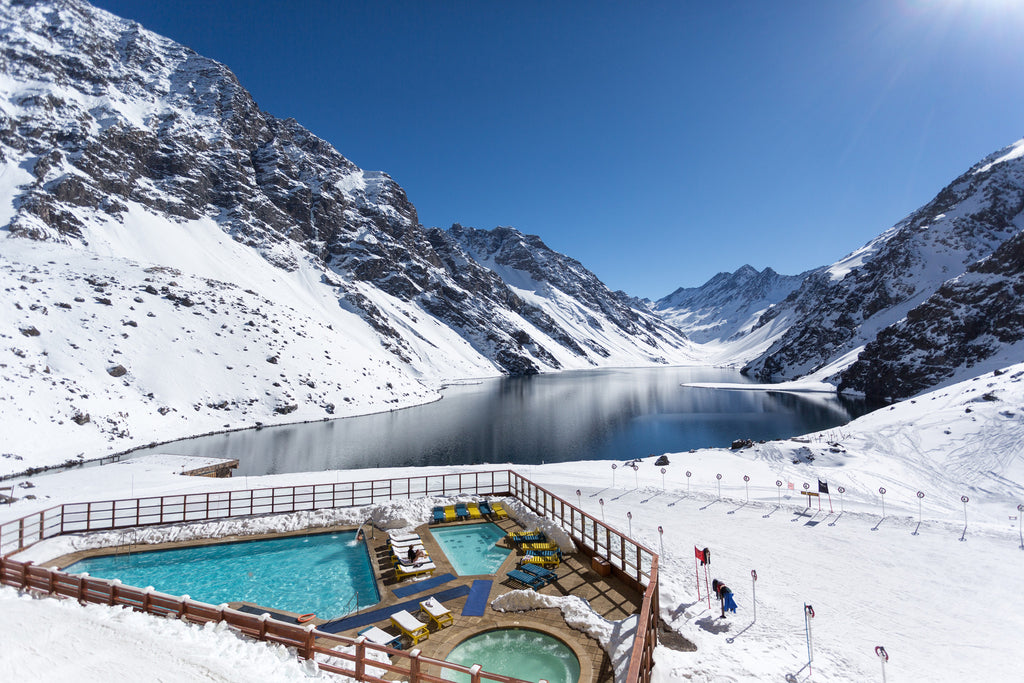 The days are longer and the mercury is rising. While some of us are still lucky enough to get the last of the spring corn, many have already started planning summer beach vacations. The truth is, though, by July you'll be getting that skiing itch again. Instead of waiting for the first snowfall here in October, why not plan a ski vacation to the Southern Hemisphere?
There are many awesome places to ski in South America and New Zealand from
Las Lenas
in Argentina to
Treble Cone
in New Zealand, but today the focus is on my personal favorite, Ski Portillo in the Chilean Andes.
SKI


Ski Portillo
is a fairly small in-bounds ski resort by megaresort standards with only
35 runs
and 1,240 inbounds acres. However, every inch of this terrain is awesome and as the resort is not very accessible (and inaccessible after a snow storm) you will sometimes have only a few hundred skiers at a time on the mountain.
When at Portillo, it's best to follow the sun from skier's right to left. I'd recommend starting with a long run down Juncalillo, which basically goes to the base of the access road. You'll enjoy a long chair lift up over the road which trucks traverse from Chile to Argentina. An alternative would be Descenso, but it's quite possible one of the World's elite ski teams will be using it for training.
After you are loose, head up the Roca Jack for some steep skiing, untracked powder, and narrow chutes. You can lap this and the newer El Caracara lift all morning (alternating in some trips to the Juncalillo base). Just be warned that Portillo has some lifts like no others. They will have 4-5 poma disks attached to one horizontal bar that zips up the mountain at 3x the speed of a normal surface lift making them more immune to avalanches. Remember to get off with inside skiers going first and one at a time.
In the afternoon it's time to move over to the Plateau Lift. I recommend a few fast cruisers on Plateau (you can usually hop into a free timed race course to prep for the race at the end of a Portillo ski week). When you are ready to go off-piste again, check the Garganta Chute. If you still want more, take the Condor Lift up from the top of the Plateau Lift and enjoy 2,000 vertical feet of the lake run. It's an amazing experience skiing into the Inca Lake (but the lake needs to be frozen to do this and, even then, you'll have a bit of a hike across, but it's totally worth it).
You'll probably be pretty beat after this and ready to hit the hot tub, or you can explore more off the Condor Lift or Las Vizcachas for more gentle off-piste skiing.
If the conditions are right, and you have brought your beacon, consider some serious backcountry off the Roca Jack. Super-C takes a serious bootpack to get to, but it is one of the most famous couloirs in the world.
If you want the backcountry experience, but lack the cardio stamina, Portillo usually offers Heliskiing at rates way more affordable than in the US and Canada.
I also highly recommend
Ski Arpa
, a legendary cat skiing operation, for a day trip.
STAY


Portillo isn't really a resort. It's a hotel with a ski mountain. In fact, it's more like a cruise ship in the mountains. Although there is some flexibility, you are expected to stay Saturday to Saturday, which gives you an amazing opportunity to meet the other guests, who are some of the most dedicated and skilled skiers in the world. As such, you don't have too many choices of where to stay. The main option is to stay in the Hotel Portillo (USD $2250-$6100, depending on your choice of room). Note that the rates include 4 meals a day and 8 days of lift tickets.
A more economical option is to stay in the smaller Octagon Lodge, a 2-minute walk from the hotel (USD $1490-$2400). What I like about the Octagon is that you save a bit of money, but still get the full Portillo dining experience.
The budget option is the Inca Lodge, which is a pretty bare bones hostel. It is not highly recommended for more than a night or two as part of a larger South American ski trip.
There are also some chalets on offer that you can explore.
All the lodging options give you access to Portillo's amazing facilities, which include: pool, hot tub, exercise room, great room, and decks. This really is a cruise ship on snow after all and the hotel will keep you entertained with events and activities outside of skiing.
EAT & DRINK
As mentioned, the classic Portillo ski week comes with all your meals in the main Portillo dining room. The staff returns year after year and the warm welcome from them is one of the best parts of coming back here.
For dinner, you specify a late or early seating. The late seating may seem past your bedtime for Americans, but I suggest it unless you have children along with you. Also you need to make it out for the epic partying, so just take a nap in the afternoon.
The menu items change throughout the week with a limited selection each night, but the food is extremely good. There are also some alternative options always available. Pro-tip: the Spaghetti Bolognese can always be added as a side.
After dinner head over to the bar for live music.
Around midnight, the main bar closes and you can choose to continue your night at either the disco (with quite a
storied reputation
) or the employee bar, La Posada, just down the access road. La Posada is actually where you'll have the wildest nights at Portillo.
One final must mention is Tio Bob's at the top of the Plateau Lift. It has amazing views of the hotel and the lake and great simple fresh grilled meat. You'll typically get one free lunch at Tio Bob's with your ski week, but if you aren't on a shoestring, I recommend eating there 3-4 times during your week.
In short, Portillo's a gem that lives up to its iconic reputation and is a summer vacation that can't be beat by any beach, at least in my opinion…
Questions? Comments? Reach out to
steve@orsden.com