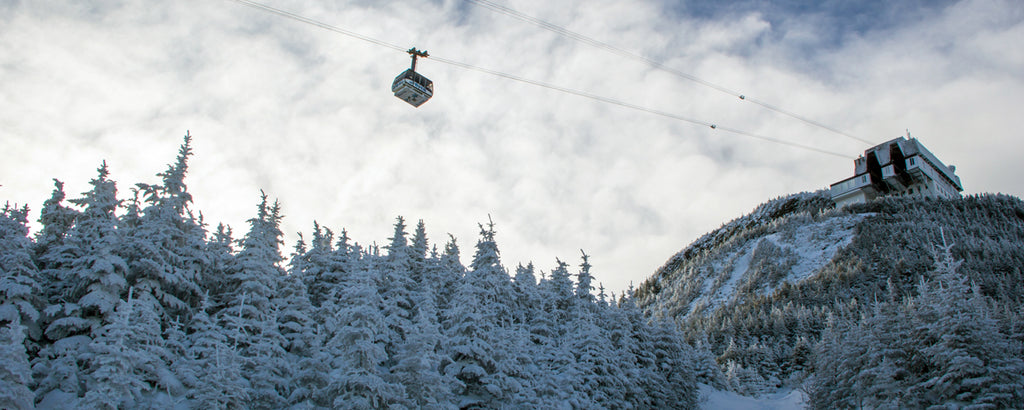 As owners of Orsden, we've had the opportunity to ski at some of the best resorts in the world. At many an après-ski gathering, we often find ourselves in a discussion of best lifts, which we define as a combination of terrain access, technical features and the history of the lift itself. Although maybe one day we will share our favorites in the world, we aren't quite qualified to comment on every mountain, but one thing we can comment on is the top 5 ski lifts in Vermont. In alphabetical order:


Aerial Tram - Jay Peak
The Tram at Jay Peak in the Northeast Kingdom of Vermont accesses big and gnarly enough terrain to remind skiers and riders of famous trams out west at Snowbird, Jackson Hole and Squaw. Running at full blast this puppy can get you nearly 2000 vertical feet 5-6 minutes at a time. The lines can be long at Holiday periods, but there is no better option for midweek laps in the bitter cold and wind of northern Vermont in the dead of winter. Not to mention one of the old tram cabs is the best ramen restaurant in Vermont.
The Forerunner Quad - Stowe
The Forerunner Quad at Stowe is a legend, debuting in 1986 as one of the world's first high-speed quads before undergoing a much-needed upgrade for the 2011-2012 season. This lift accesses over 2000 vertical feet in approximately 8 minutes, with access to Stowe's famous front four (although repeated widening and flattening of Liftline have reduced this to more of a 3 and a half). The lift accesses a plethora of other legendary terrain from Nosedive, to Hayride, to many glades. Also, we give this lift serious props for opening to the general public at 7:30 am on weekends and 8:00 am on weekdays. 
Bear Mountain Quad - Killington
Less than 1200 vertical you say? Not high speed detachable? No more than access to 4-5 trails you'd actually want to ski? Well, none of that matters on this lift at Killington when beneath you is the quintessential mogul run. Wide, steep, covered in snow guns, sun exposure and, most important of all, a lift right overhead. This is the lift to go to for mogul skiing and mogul watching and there really isn't a better place to be on a warm March day. Pro-tip, when it's open, don't snooze on Devil's Fiddle, which, with some small cliffs, is one of the gnarliest runs in the east.
Single Chair - Mad River Glen
There are only two single chairs left in the United States and only one in the lower 48. That didn't stop Mad River from replacing this chairlift with a brand new single chair in 2007. Although they kept to the single chair format, the smoothly operating new lift can pull off nearly 2000 vertical in less than 10 minutes, which for comparisons sake is more vertical per minute than Stratton's modern Gondola will get you. Oh, and the terrain, its only the steepest, gnarliest, lift-served terrain in the east, but you are gonna need to wait for some natural snow.
Slide Brook Express Quad - Sugarbush
Sugarbush has so many great lifts on both the Mt. Ellen and the Lincoln peak sides. If they installed a top to bottom lift on either peak it would probably have to earn a spot on our list. We also need to give honorable mention to Castlerock Double, which was recently replaced, but with the same uphill capacity as the old lift. Nonetheless, the Slide Brook Quad provides easy access between two formerly separate ski areas. Although in a win for mother nature, the terrain below is restricted to backcountry access. Furthermore, the lift was a forefather of other connector lifts such as Whistler's Peak2Peak Gondola.
HONORABLE MENTION
Challenger Triple, Mount Snow - Black terrain only, and its a minute faster than the Outpost lift

Gondola, Stratton - Accesses literally every trail at Stratton, in new Gondola cars. However, closes too often in the wind

Madonna I Lift, Smugglers' Notch - Serious black terrain access on this one

Red Chair, Magic Mountain - Raised from the dead literally. Earn a free ride if you skin up first. Serves the gnarliest terrain in southern Vermont

Sunburst Six, Okemo - Heated seats, orange bubble...
Photos: jaypeakresort.com, stowe.com, onthesnow.com, boston.com